Podcast: Play in new window | Download
Hello, and welcome to the reboot of The Weekly Weinersmith, celebrating the paperback release of our book Soonish: Ten Emerging Technologies That'll Improve and/or Ruin Everything.
Lots going on this month! Kelly and Zach are moving to a farm, where Kelly is going to set up a small ecology research station. So if you're looking for field sites in central Virginia, shoot Kelly an email!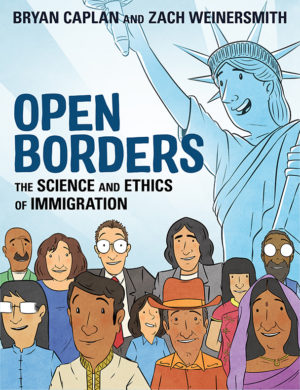 To highlight our chapter on Robotic Construction, Kelly decided to interview Dr. Bryan Caplan. That said – Kelly totally messed up the audio file and lost the interview! (They were both brilliant, we swear!). But it turns out Bryan and Kelly had much the same conversation 2+ years ago, when Kelly interviewed Bryan while writing Soonish. So this week we present that edited prior conversation.
Bryan and Zach subsequently decided to work together on a book about immigration policy, and the second part of the interview is a chat between Zach and Kelly about that book. The book is called Open Borders: The Science and Ethics of Immigration, and you can learn more about the book by clicking this link.
Finally – In the interview with Bryan I mention a chapter on Advanced Nuclear Reactors. Those of you who have read Soonish may notice that this chapter isn't actually in the book! We had to cut 1 chapter from the book due to page constraints, and that's the one that got the ax. But today, we bring this chapter back from the graveyard to share with you. You can download The Lost Chapter for free here. Enjoy!